We all know that it's pretty hard to get a bad meal in Italy. At highway rest areas, at little sidewalk stands, at food trucks....they all serve up some pretty decent food at pretty decent prices. Lately we've had a few opportunities to check out some more of the local (and nearby) dining opportunities and I must say, we haven't been disappointed.
First begin with dessert. That's always been my philosophy....you may have a heart attack before you get to the best part of the meal so let's start with that! In Cervinara there are several gelaterias but in my humble opinion you can't beat Micione, the ice cream stand that is right by the Villa Communale. It's made fresh every day, and in summer twice a day! You know the ingredients because you can see the detritus waiting to be picked up in the trash. Is gelato di fragola (strawberry) on the menu? Then it's probably late spring and you will see empty strawberry flats in the trash pile. Mid summer finds lots of melon, lemon and cherry flavors. Of course there's always the season-less flavors of hazelnut, coffee, chocolate and Nutella. Can't go wrong there! And seriously, I have eaten gelato all over the peninsula and I think we in Cervinara have some of the best there is. And I'm not the only one who feels this way. We have taken friends and family here for delicious cones and cups and invariably they come away fat and happy with their choices! Plus a "small" cone which is huge by American standards is only 2 euros. How can you go wrong?
I'm not a huge fan of other desserts in Italy. They tend to be very dense and heavy on pastry cream or soaked in rum. Not that I turn them down....it's just that I don't think they're worth the calories for the most part. But up in Castello we have the Bar and Pasticceria Castello, a tiny hole in the wall spot with some excellent sweets. My favorites are the mignons, mini versions of bigger pastries. It's nice to have the small ones because you can have several different tastes for the price of one! They also make gelato, but I'm really partial to Micione so I don't indulge there. I do like their little mini pre-made cones that are coated in chocolate. They are just enough for a sweet finish to a meal without going overboard. Their fancy cakes are works of art as well; whether for a party or a wedding, they are as beautiful as they are tasty.
Now on to the main courses! We recently celebrated our 43 anniversary and were trying to decide where to go for a nice lunch. We decided on a restaurant called Antana in neighboring Montesarchio. This place had been recommended by friends and we had an advertising card that claimed they were open for lunch with ample parking. After finding our way onto a street that was no wider than our car we discovered that neither of these was true! I went in to a darkened room and was told that they weren't open for lunch, that the advertisement I had was out of date. If we had been a party of six or so they would have opened for us and put together a meal, but for just two it wasn't worth their effort, so we moved on.
There was a new restaurant that had opened last year on the main highway that leads to Cervinara. It's called KM237 and we decided to give that a go. This was an inspired choice. We were able to have some tasty Neapolitan tempura style veggies, and two plates of very good pasta for a most reasonable 23 euros. My orecchiette with eggplant, zucchini and tomatoes was excellent, as with dh's fusilli with sausage. We also discovered that they have weekly special events such as BBQ in the garden, karaoke nights and special happy hour events. The décor is lovely and the air conditioning worked perfectly! That's no small feat here in Italy, where the AC is usually the equivalent of two guys blowing on an ice cube! We know we'll be back for more good meals in the future.
Today we decided to head up towards Benevento to a mall where we have shopped in the past. We needed to get out of the house and just have a walk around but somewhere not in the sun. We also wanted to do another lunch out. So, we did a bit of shopping and then headed over to the Buonvento Mall Food Court. This is not your usual mall food court, by any means. There is a pizza place with wood burning oven that will get you a custom made pizza in 5-10 minutes for 5 euros. But we decided to go with something more nutritious, so we made our way through the regular dinner line.
We picked up our trays along with silverware and bread...very good bread and as much as we wanted. Then we picked our meals. Mike had the baccala with clams and mussels along with roasted potatoes and zucchini. I had a farro salad (farro with diced carrots, zucchini and white beans), steamed escarole and pepperoni impanate (roasted peppers with bread crumbs). OMG, it was so good. And the bill? Grand total of 19 euros, including a big bottle of water. We've eaten here before and never been disappointed, and I'm sure we'll be back. It's not worth it to cook when you can have healthy options like that at the food court.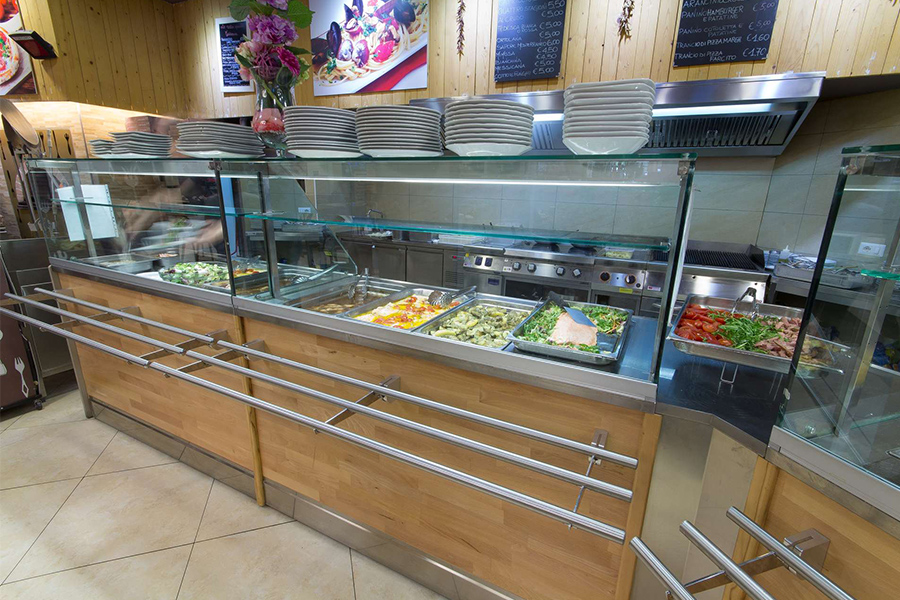 There are so many places to get a good meal in a town like Cervinara, whether you are in the mood for an Aperol Spritz and some finger foods for happy hour or want an elegant dinner in a sophisticated ambiance. We haven't been to all of them...far from it. But it's nice to know that there's always going to be a spot for a nice meal at reasonable prices when it's too hot to cook. Buon appetito!